What is a Customer Self Service Portal?
A self-service portal is typically a website or app that customers, staff, partners, or suppliers can access to find answers to questions, conduct business (transactions, orders, make a claim, pay bills, etc), check on status, submit support tickets, download resources, and more. A portal can be used in place of or alongside an active support team to streamline repeatable processes, freeing up support personnel to deal with the more complicated requests.
Adding a portal that your customers can access and navigate themselves is one of the key components to a successful self-service strategy. It can be a great starting point for digital transformation by identifying existing business processes that are inefficient and replacing them with an automated digital solution.
There are many benefits of a customer self service portal – for both the business and its customers. Benefits of self service can include more accessibility, reduction in wait times for support, freeing up your team's time, decreasing costs, and even increasing customer acquisition.
Overall, this is an opportunity to give customers choice and provide an enhanced customer experience by allowing them the freedom to conduct business at their leisure in a way that may better suite the way they would prefer to interact with you.
However, it's not the right solution for every business as it takes time to choose or build the right self-service platform and can be costly to deploy and maintain. A business should evaluate what the estimated cost for such a project would be and what the return is for their business in terms of key metrics.
---
You might also be interested in:
---
Benefits of Customer Self-Service Portal
Allows for 24-hour customer service – Customers are looking for answers and it's not always during the 9 – 5 hours that businesses are open. A self-service portal allows for customers to search out solutions to their problems, process requests, and access information even when the business is closed.
Reduces number of support tickets for your team – By providing information in a self-service portal that allows customers to identify and resolve their issue themselves, you are taking a load off your support team who would have to log, route, solve and follow-up on a ticket. This saves your team time and speeds up ticket resolution time for your clients by decreasing the backlog of tickets and shortening the queue.
From a recent report that compared cost of contact, a tech support call could cost as much as 120 times the cost of web self-service.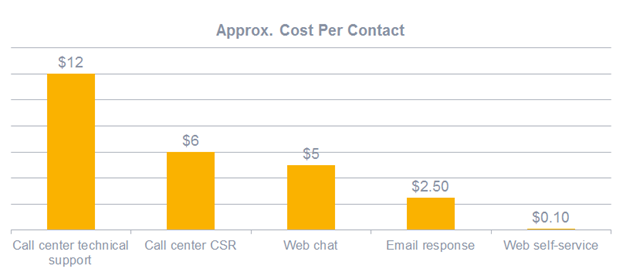 Source: https://www.superoffice.com/blog/customer-self-service/
Direct connection to the right assets – If the customer is looking for a specific file or piece of information, a portal can be a direct link for them to download it. Rather than requiring a support person to track down and send the same file as many times as that same request arises.
Use video and visuals strategically – A unique benefit of customer self-service portals is the ability to provide answers and guides to your customers most frequently asked questions in the form of videos or visual walk-throughs. Sometimes a series of screenshots or a quick 2-minute video can provide a user a solution in a fraction of the time that it would take over the phone or back and forth by email.
Enhance customer acquisition – Self-service portals can increase customer satisfaction by giving them an easy path to finding answers, resolving issues, and generally improving the customer experience. You can gauge how satisfied customers are with a quick survey in the portal and ask them to review your company, refer a friend, or cross-sell another service they may be interested in.
For example, in the insurance industry when a customer is comparing quotes from different providers, they may look at what reviews online say before making their decision. Having a self-service strategy can be the deciding factor for a prospect when they are evaluating whether to buy from your business or a competitor. The modern consumer does a lot of research before making a purchase and cost is only one component. If your company has favorable reviews praising the excellent customer service, that can influence a potential customer to choose you over another company.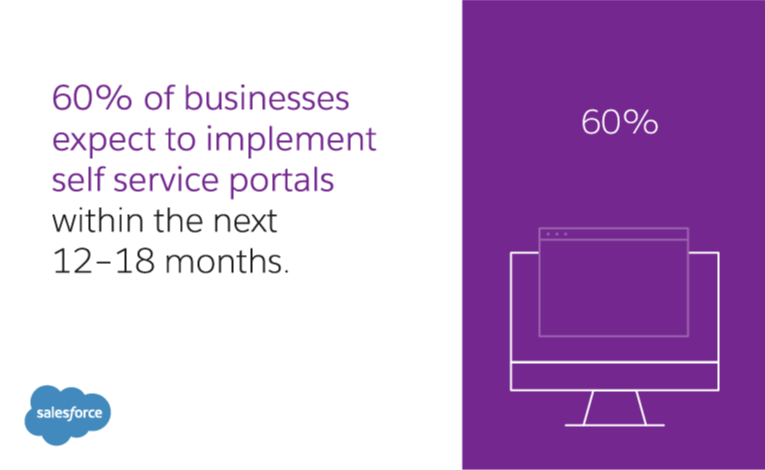 Source : https://www.salesforce.com/hub/service/self-service-portals/
Disadvantages of Customer Self Service Portal Software
Cost to deploy and support – While there are many benefits of customer self-service, it can be expensive to set up and maintain your own portal. A portal has to be configured to match your business needs, branding, and then maintained so that it provides a flawless experience for your users regardless of device or browser they are using to access it.
Maintaining content – The content in self-service portals has to be revisited regularly to remain up-to-date. As new customer issues arise, they should be addressed in the portal and this may mean additional writing, designing, or shooting of video. Customer needs evolve over time and the content in your self-service portal has to evolve with them.
Portal-only support can lead to frustration – Some businesses will try to reduce the manual support down to almost nothing after investing in a portal project. This can be frustrating for customers who prefer phone support from a live representative or have distrust of entering information and making payments digitally.
Creates another entry point to cyber threats – As with any other digital asset, if sensitive customer data is stored in it, extensive cyber security measures should be in place to safeguard that info.
---
Learn More About Customer Self-Service Portals:
---
Self-Service Customer Portals Are Not Just a Fancy Website
To leverage a self-service portal as a more efficient way of doing business typically integrations from the portal to the core business applications are required. This allows the same business rules to be applied, real-time processing, and real-time status leading to less chance for errors to reduce customer satisfaction.
Therefore, a business must take into account that level of systems integration should be implemented and maintained along with the core systems. Lastly, they must be secure given you are working with real customer data for your core business system.
Is a Self-Service Strategy Right for Your Business?
To determine if a self-service strategy is right for your business you should analyze:
your existing business processes
which functions you'd want to enable in the portal
the number of business transactions appropriate for self-processing
the number of calls or requests just to check on status (order, support tickets, delivery, payment )
the number of support queries you receive
the nature of support user requests – are there recurring requests that could be better handled by an automated self-service portal?
how much time you will save with a portal versus your existing processes
what resources you have to make this happen in-house or if you need an external project delivery team
To take full advantage of the benefits a customer self-service portal can offer – approach strategically and make sure it is the right fit for your business. If you're not sure, contact us.
---
We offer a free 30-minute consult where you can go over your business idea or challenge with one of our senior consultants. We have extensive experience helping clients solve business problems using technology and have worked on many platform and portal projects.