Every organization has mission-critical business applications. Enterprise or SMB (small- and medium-sized business), finance or retail, it doesn't matter the size of an organization or what industry it operates in – apps have become critical components across all industries.
Application Managed Services (AMS) have become a vital strategy in managing all of these different apps, especially for organizations who are faced with IT challenges and needs for the first time as the digital age disrupts every industry.
With AMS, you outsource the management of your business apps to a trusted, third-party partner.
This area of technology services is growing rapidly. By 2025, the AMS market is expected to reach $87.6 billion. Industries like healthcare and financial services, that heavily rely on apps for both internal and customer-facing tasks, require the support that an AMS provider brings due to lack of internal IT resources.
Business leaders are recognizing that AMS allows their companies to operate at the most optimal levels. It allows them to put away any worries and trust that their critical apps are in the right hands. But if you're still on the fence, we've put together some key reasons why you need to make the jump to AMS.
AMS Gives You Access to a Deep Skill Pool
Many technology decision makers have concerns about being able to retain the correct IT talent for their business. Finding those unique individuals that can better your company with the exact skills that you need to manage your business apps can be a constant challenge.
That worry is put to rest with AMS. By choosing to partner with a managed services provider, you are getting access to a fully-formed team of IT specialists with all of the skills in programming languages and operating systems that your business will likely ever need to function.
---
Are You Unsure About How to Get Started? Remove those worries, and let a team of experts manage your important applications.
---
The best part – access to these specialists comes at no additional costs. You will no longer have to spend time and resources searching for new IT hires, as your partner will have everything you need built into one, overall cost.
AMS Takes the Reins for Day-to-Day App Management
An application that is mission critical to your business is one that would have severe consequences to your business if it falters – or fails – at any point.
Any glitch in its operation would impact your business reputation, slow or halt productivity, or cost additional resources and dollars.
For example, in financial services, this could mean payment processing, online banking, and billing systems. In manufacturing, control systems, supervisory control and data acquisition, and process automation.
Application Managed Services and Support
AMS offloads any support work and long-term app maintenance that would otherwise cost your in-house IT team valuable time every day. Everything from patching, bug fixes, and app diagnostics to overall monitoring and maintenance is taken away from your IT team and covered by your AMS provider.
Proactive App Monitoring
Resource Monitoring and Optimization
Ad Hoc Data Queries
Productivity and Process Management
Metrics and SLAs
Application Backup and Recovery
Data Fixes and Data Conditioning
Software Release Management

Transitioning all of these tasks away from your own internal IT to an experienced provider allows you to take advantage of IT professionals with specialities that your team does not have. An AMS provider staffs experts with an array of skills around app development and management, and they'll be able to bring a new point of view to your operations.
With that visibility into your organization and your unique mission-critical business apps, you'll receive recommendations and improvements based on assessments that can improve your overall business practices in ways you have not considered before.
Reduce Downtime with Application Managed Services
Consider the implications of your banking app going offline, or if your doctors cannot access client files. According to Oracle, the expected financial impact of any IT downtime for Fortune 1000 enterprises is as much as 8% of revenue.
Take the airline industry as an example.
Five major airlines – Delta, British Airways, JetBlue, Southwest, and United – all suffered significant outages in 2016/2017 alone.
Not only did these events incur costs such as loss of ticket revenue from website outages and compensation for delays and other issues, but it was met with negative media attention and a loss of trust with consumers.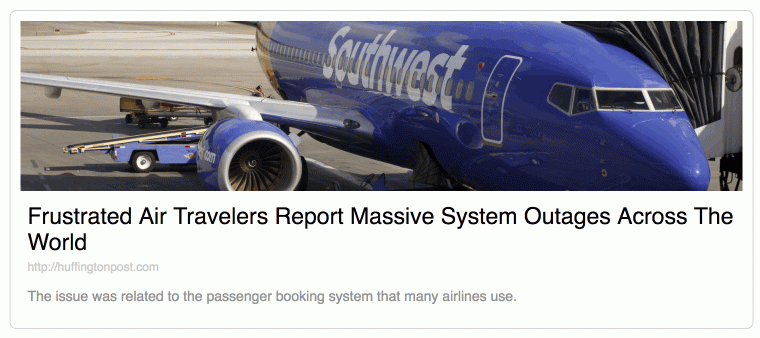 (Source: Huffington Post)
Downtime can occur at any moment, even if your business uses the most trusted and reliable services. In 2015, a two hour Google Cloud outage brought down all software connected to just the Google Cloud client.
Application Managed Services Alleviates Risk
By handing over the reins to your mission-critical apps to an AMS provider, you are alleviating some of the risk associated with downtime. It ensures that all of your apps are up to date, patched, and secure from known potential threats.
While no single provider can guarantee 100% uptime – that's just not very realistic – AMS can place your IT in the best position to circumvent any downtime.
---
Learn More About Application Managed Services:
---
AMS Facilitates Business Growth
IT budgets are plagued by intense maintenance costs that bog down internal IT departments. With so much effort going into simply ensuring the uptime and functionality of mission-critical apps, it leaves little room for growing the business.
Choosing to partner with an AMS provider means choosing to lift that burden from your IT teams, put it in the hands of trusted experts, and focus on innovation.
The resources saved with AMS allows your IT teams to focus on increasing the quality of your mission-critical business apps, lowering the overall cost of delivery, and deliver new business capabilities. And by creating better efficiency, you can see improved revenue growth from your clients and providers.
AMS gives you confidence in your IT. By trusting that your mission-critical business apps are in safe hands, you can let go of the wheel, and put your efforts into growing your business.
Resolute Technology Solutions' complete Application Management Services ensure that your mission-critical business applications are improving your business functions, not hamper them. Contact us today to learn how we can facilitate the growth of your business with AMS.
[]